Strokes aren't funny. They cause untold suffering, disability, and death on a massive scale each year. Having personally lost both of my grandmothers to stroke at relatively young ages, this issue is deadly serious to me. Apart from preventing a stroke in the first place (that is, controlling diabetes, hypertension, obesity, high cholesterol, stress, heart arrhythmias, etc.), recognizing the signs of stroke early is the best hope of saving brain cells — and lives.
But a recent survey done by UCLA Medical Center showed a ludicrous 73% of folks under 45 wouldn't seek attention immediately for stroke symptoms, instead electing to wait it out to see if they got better. This despite data showing that hospitalizations for stroke in this younger population have jumped by over 50% since the 1990's. Worse still, if you can't recognize the symptoms in yourself, what hope do you have of recognizing and acting on the symptoms in someone else?
Enter The Weeknd. His song "Can't Feel My Face" pretty much makes every single healthcare provider think of stroke anyways, so why not use it as a vehicle to raise awareness of the symptoms? (The original, after all, is allegedly about cocaine…)
The best part? Pretty much everyone who appears in this video works in healthcare: nurses, stroke coordinators, EMS students and instructors. Share it proudly and save lives! And watch the behind the scenes!
This video was made possible by the generous support of The Carpenter Foundation, the heart of helping those in need. Since 2003 they've been actively seeking solutions and focusing efforts on educational programs that directly promote comfort and dignity in our communities. The Foundation was developed by The Carpenter Health Network, providing services to help patients and families feel comfortable and right at home, no matter what stage of illness or injury they're facing.
Get ZDoggMD to come speak and perform in YOUR 'hood!
---
Credits:
Based on Can't Feel My Face by The Weeknd.
Lyrics and vocals by ZDoggMD (AKA Dr. Zubin Damania)
Audio engineering by Devin Moore (who also plays cell-phone throwing drink stealing bar patron)
Video production by Variables of Light, Las Vegas.
Ladies In Da Club
Daisyrose Lopez RN
Rowena Tongol RN
Rose Bonilla RN
Stephanie Lapid RN
Kim Peterson, RT
EMS Crew
 Tyler Chairsell
Carlos Morales Contreras
Pericles Cordova
Timothy Gundersen
Robert Macias
William Wilson
Brandie Green
Film Crew
Jenny Egidio (Makeup)
Logan Stewart (Cinematography)
Tom Hinueber (Director)
Chanston Bender
Ethan O'Donnell
Stolen Blatantly from the American Stroke Association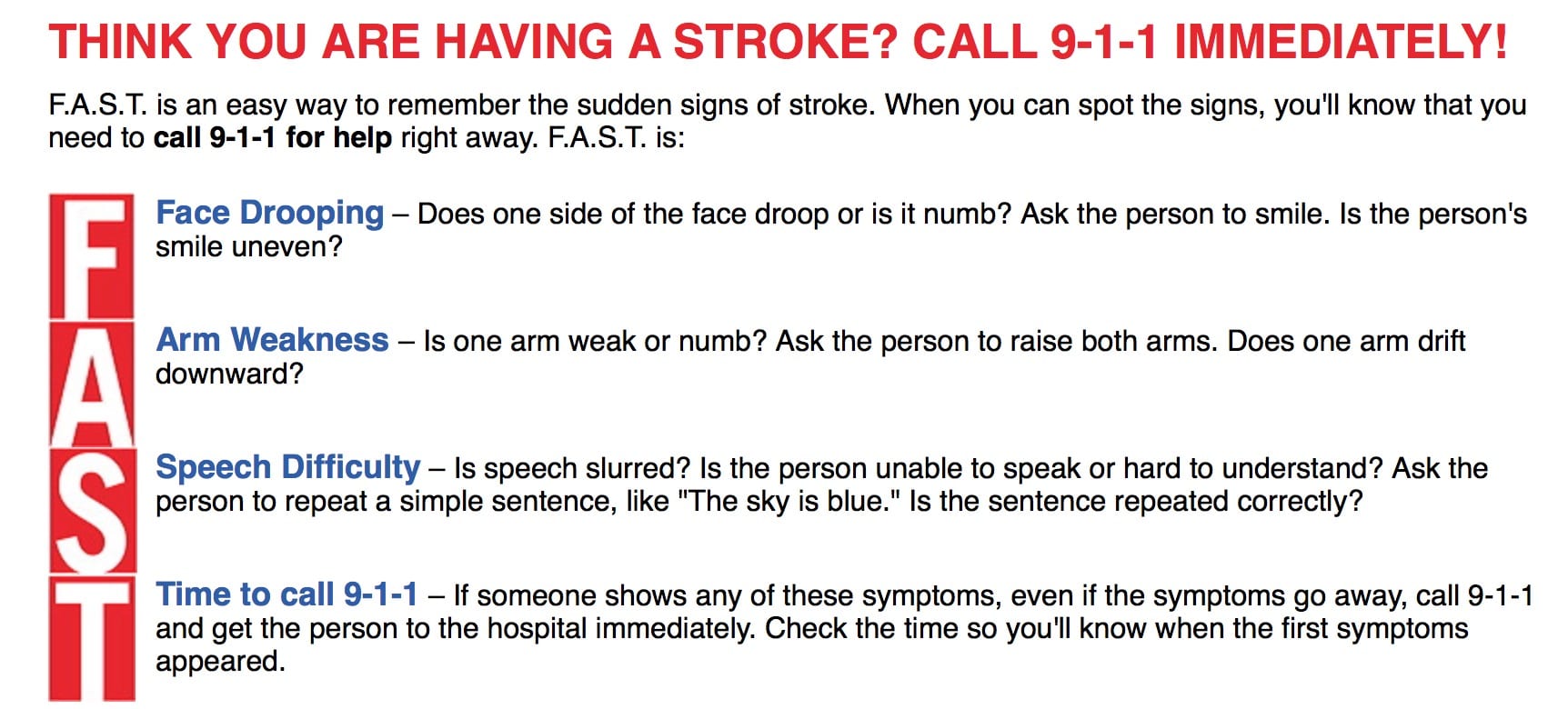 And I know it's probably just asleep, but man my arm is numb
And I normally talk so smoothly, but now I'm sounding dumb
But at least I won't need botox now, cuz half my face looks young
This I know, thibts I thoogh
 
I'm thinking don't worry about it
I'm thinking it's probably just stress
We both know I ain't got insurance
I could just go bankrupt from one MRI test
 
I can't feel my face, my tongue won't move. Am I strokin' Am I strokin'?
I can't move my arm, man am I screwed? Guess I'm strokin' Guess I'm strokin'
 
And I know I need neurology, at least some kinda scan
And I know each second matters cuz each second I lose brain
All the word salad I'm spittin' now makes this hard to explain
This I know, fish afro (wait, what??)
 
I'm wishing you'd hurry about it
Lift my arm up and it drifts down
We both know I can't talk about it
So it's up to you, girl, to call 9-1-1 ooh!
 
I can't feel my face, why does it droop? Cuz I'm strokin' Cuz I'm strokin'
I can't move my arm, or I'd slap you! Can't ya see I'm strokin? Ain't no jokin'
He can't feel his face, what should we do? is he strokin' is he strokin'
He can't move his arm, what should we do? is he strokin' is he strokin'
 
Facial droop, arm weakness, speech slur-y
Recognize these signs could mean stroke
Though this song is trying to be funny
Saving brain cells isn't a joke
 
I can't feel my face, why does it droop? Cuz I'm strokin' Cuz I'm strokin'
I can't move my arm, or I'd slap you! Can't ya see I'm strokin? Ain't no jokin'
He can't feel his face, what should we do? is he strokin' is he strokin'
He can't move his arm, what should we do? is he strokin' is he strokin'
Related Videos