Today's Hospitalist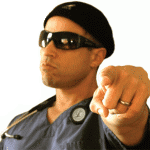 Check it before you wreck it, playaz–our massive media assault barrels onward with a shout out from the peeps at Today's Hospitalist magazine! This is a significantly more prestigious publication than the previous gold standard, Yesterday's Hospitalist.
They even put me on the cover (see picture on left). Went a little heavy on the Rogaine prior to the shoot, but I think it adds a rugged quality that says, "I may have to intubate you, but you're welcome to pet me first."
All-in-all, I'm thrilled to advance the cause of beer-reviewed, evidence-based comedy amongst my hospitalist homies!
THA' GREATEST
THA' DOPEST