In high school, I launched down the lonely path to nerdy parody when our band rocked an awful spoof of AC/DC's Back in Black to honor Julius Caesar for an Ides of March festival. The tune was called Stabbed in the Back. Total number of record deals offered by Weird Al's label: zero.
Et tu, Weird Al?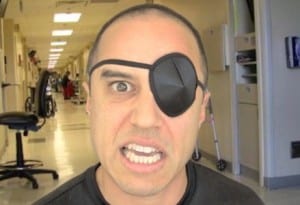 Desperate to escape another season with Uncle Owen on Tatooine, I joined the Rebellion at UC Berkeley, studying music. But I hedged my bets by also doing molecular biology with a research thesis in a genetics lab. Turns out I was a natural at Drosophila wing dismemberment. This was fortuitous, because my band Flash Gordon Approaching never quite gained the traction it deserved–despite the incredibly rich mullet I sported in those days (please see Costco Membership card, circa 1992). Luckily, UCSF medical school had an admissions quota for bad guitarists with hair helmets who were fruit fly savvy.
I gained much crucial experience in medical school, especially while producing the class play (which included such underrated gems as The Docs of Hazzard–nothing's hotter than a med student doing CPR in Daisy Dukes). I also met the future Dr. Harry at UCSF, and together we contributed comedic material to a startup with the creative name of Medschool.com. They streamed videos for medical education over the internet…in 1999. Let's just say it was an idea whose time hadn't come yet. Med school ended with an infamous graduation speech that forever destroyed my prospects of staying at UCSF (although I did get Nobel Prize winner Michael Bishop to crack the faintest of smiles at one point before security escorted me out). I began to fixate on the delusion that with a little hard work and dedication I might occasionally be slightly funnier than placebo.
Internal medicine residency at Stanford taught me that a sense of humor comes in handy as a survival and coping mechanism, especially since sobbing in the hospital stairwell only led to dehydration. I began to do stand-up comedy to blow off steam, mostly for equally bitter medical residents and pharma reps. I did gigs for the American College of Physicians and companies like Pfizer. You haven't lived until you've been heckled by a drunken doctor-hating drug rep. And they haven't lived until I've performed repeated serial unlubricated prostate exams when they show up in my ER for detox.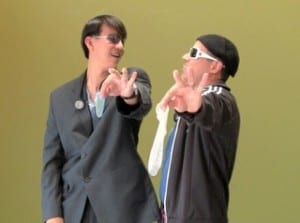 So after many adventures, I'm now a full-time clinical hospitalist. As adjunct faculty at a large academic institution, I've kept my Indian parents happy. I get to take care of interesting people with lots of acute problems here in the Silicon Valley, and that keeps me happy. And I get to use my sense of humor to put patients–and more often myself–at ease during times of stress. I couldn't ask for more.
But I'm an ingrate, so I did. I wanted to impact a larger population but couldn't figure out how, short of barging onto the set of Dr. Oz, naked (this may still be my ultimate goal, but I'm terrified of Oprah). Then this magical entity called "social networking" materialized. Bingo! Write, produce, perform, and distribute funny yet educational videos on YouTube. Coerce my hilarious yet slightly creepy best buddies from medical school to contribute. Interact directly with the audience through Facebook, Twitter, and the rest of those cryptic little icon boxes. Entertain while educating, and foist malt liquor upon my inner gangsta at the same time.
The name ZDoggMD is a tongue-in-cheek tribute to the 90′s rap culture I've loved since college–what's more street than a doctor raised in the country, living in the suburbs, and practicing at an academic hospital? Please don't answer that.
My hope is to make people laugh, and in the process make them aware of important issues impacting their health. If I get to beatbox with my homies while doing it, then that's just cream, baby!