Physicians and healthcare professionals need a REAL voice.
The American Medical Association deleted its original tweet asking whether medical schools could teach students how to be "more efficient and effective" with the EHR so they could avoid "pajama time." The response from doctors highlighted just how out-of-touch this organization has become.
ADDENDUM: in response to the online outrage, AMA tweeted a retraction to the original tweet, see below. Weigh in on the comment section on YouTube or Facebook fam!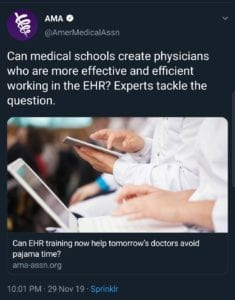 Related Videos